zvelo's OEM Partners benefit from increased website categorization speed, accuracy and coverage
Greenwood Village, Colorado – September 30, 2011 – zvelo, Inc., a leader in URL database (zveloDB®), website categorization and malicious website detection solutions for the OEM market, has released full categorization support for Italian and Portuguese language websites. This announcement continues zvelo's efforts to provide full categorization support for all of the major languages that comprise the vast majority of today's Internet websites.
zvelo's exclusive and automated technologies for identifying and categorizing URLs, combined with quality assurance provided by its team of over 150 multi-lingual Web Analysts, ensures 99.99% coverage and unmatched accuracy for websites visited by actual users.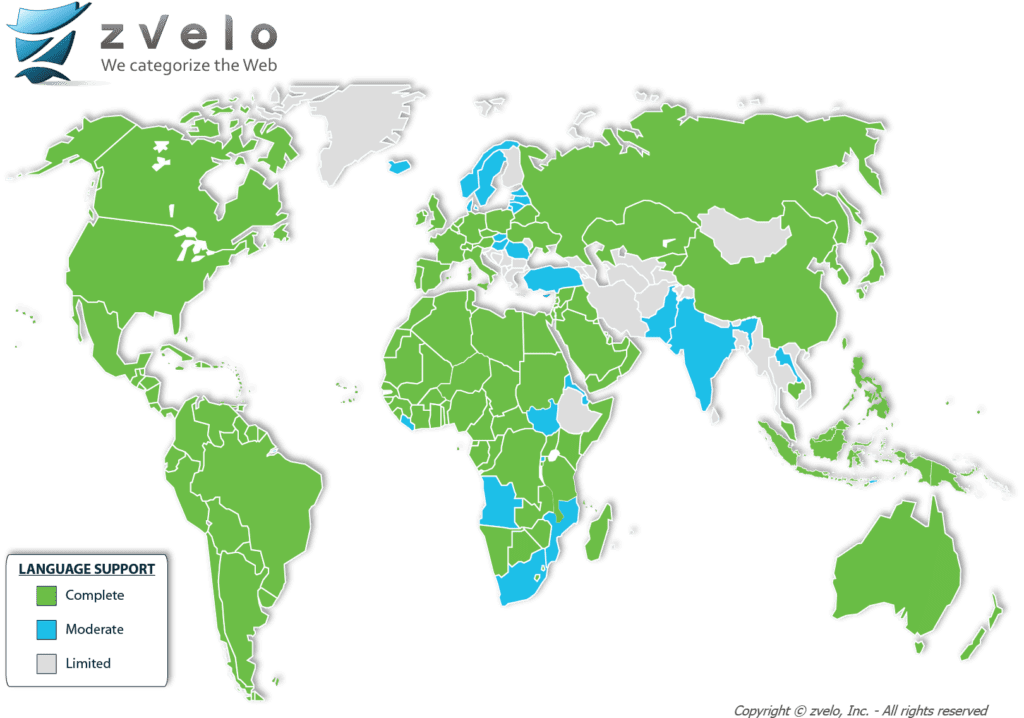 "Portuguese and Italian-language sites represent some of the highest volume of traffic to the zveloNET® cloud and the on-disk SDK," explains David Duncan, zvelo's Vice President of Engineering. "Our OEM Partners and their user communities can now take advantage of our increased categorization granularity, as well as significantly faster categorization performance, greater accuracy and broader coverage of web pages in these languages."
Interested OEMs that offer website filtering, parental controls, content filtering, analytics and online ad vetting/reporting solutions may request a demo of the zveloDB via on-disk SDK or cloud deployment options.
About zveloDB®
The zveloDB – URL Database provides unmatched coverage and accuracy of the ActiveWeb (those websites visited by actual users), including 100% coverage of the Alexa Global 1 Million most popular websites. With over 450 million URLs covering 6 billion web pages across nearly 200 languages, the zveloDB provides the foundation for web and content filtering applications, endpoint security offerings, reputation services and more. zveloDB's attributes include flexible on-disk SDK or cloud deployment options, in-depth content categorization support at the domain, sub-domain, sub-path and page level, particularly important for social networking and blogging portals, support for precision policy management and controls, and flexible category mapping to a virtually unlimited number of optional category sets, including legacy vendor's category sets, parental control category sets, reputation filtering category sets, the IAB's contextual taxonomy tiers and targeting levels, and others.