Greenwood Village, Colorado – December 9, 2015 – zvelo, the leading provider of website content categorization and malicious detection services and LKQDTM, a digital advertising platform that enables publishers to serve video ads across multiple devices and formats, today announced a partnership to deploy zvelo brand safety services across the LKQD media platform inventory.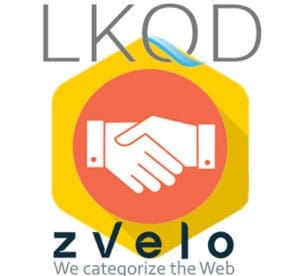 LKQD is committed to quality, brand safety, and pushing the advertising industry forward through innovative technology. To ensure safety for advertisers, LKQD pre-screens all publishers prior to on-boarding. LKQD implemented zveloLOGIC, a highly scalable URL database and brand safety classification engine, to optimize the on-boarding process as well as provide ongoing safety and categorization as their publishers grow on the platform.
zveloLOGIC covers over 99.9% of the active Web, providing deep insight into the content and context of web pages in nearly 500 categories supporting over 200 languages. zvelo delivers the industry's broadest coverage of objectionable content in categories such as pornography, hate speech, violence, piracy and malicious detection to name a few. LKQD is a large scale independent video advertising platform that allows publishers self-service access to manage, deliver, and track video ads across multiple devices.
Using zveloLOGIC, LKQD can immediately identify new URLs submitted through the self-service platform calling out pornography, malicious sites and other objectionable content as not being brand safe.
"Web pages with objectionable and malware content introduce risk for the buyer, seller and consumer and threatens the rapid growth of programmatic advertising," says zvelo CEO Jeff Finn. "We're excited to join forces with innovators like LKQD to help make the web a safer and more effective place for digital advertising."

"LKQD is focused on building scalable technology solutions to address advertising market challenges. Where LKQD's technology is focused on our full stack ad-serving platform, zvelo takes a highly scalable and technology-first approach to categorizing the web, providing the global coverage that our customer base demands. LKQD and zvelo share a passion for creating scalable technologies that help push the advertising market forward, so the partnership has been a great fit for us from both a business and strategic alignment standpoint," says Scott Alexander, LKQD COO.
About LKQD Media
LKQD is a leading independent ad platform for Publishers. LKQD's mission is to provide innovative technology solutions to solve the problems of a complex multi-device video ecosystem. We provide one platform that streamlines digital video operations for Publishers: one player, one ad server, every screen. For more information, please visit www.lkqd.com.
About zvelo, Inc.
As the proven market leader for content and contextual categorization, as well as malicious and botnet detection, zvelo is the trusted partner for the market's preeminent ad tech, network security and mobile subscriber analytics vendors. zvelo solves a diverse range of client business needs including brand safety, web filtering, contextual targeting, subscriber analytics and ad fraud prevention. The processing power, accuracy, coverage and speed of zvelo technology delivers the fastest real-time updates available today.