It was announced on February 28, 2017 that DMOZ officially closes down on March 14, 2017 –  dmoz.org will no longer be available. The public forum, sponsored by members of the registered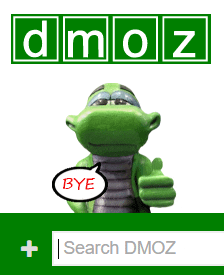 DMOZ editor community will remain open.
Rich Skrenta and Bob Truel (together as Gnuhoo) founded DMOZ in 1998 while they working for Sun Microsystems. DMOZ was acquired by Netscape Communications Corporation in October 1998 and was renamed the Open Directory Project. Netscape was acquired by a mass media corporation a month later in 1998 and DMOZ was one of the assets included in the acquisition.
What happened in 1998 and how does that compare to today? Let's take a little trip down memory lane.
In 1998, the Europeans agreed on a single currency, the euro, and Exxon and Mobil merged to create ExxonMobil, the world's largest petroleum company. Microsoft became the biggest company in the world – valued at 261 billion USD on the New York Stock Exchange. On the tech front, Apple released the iMac, Windows 98 was released and the search engine Google emerged on the scene.
Nineteen years later, Great Britain left the European Union with Brexit (they never adopted the euro). The price of oil went up to record peak of 147.27 USD (July 11, 2008) down to 40.00 USD (February 2009) and is around 48.40 USD a barrel at the time this article was published (March 2017). Microsoft's current market capitalization is nearly 502 billion USD on NYSE. The iMac of today as compared to the one from 1998: 14 million more pixels, 62,000 times faster graphics, 1000 times more RAM, 750 times more storage, and 366 times more processing power. We've progressed through six versions of Windows OS: Windows 98 (EOL 1996), Windows XP (end of support 2009), Window Vista (end of support 2012), Windows 7 (end of support 2015), Windows 8, and Windows 10.
So much has evolved on the technology landscape in 19 years. Really, I am quite impressed that DMOZ has stuck around 19 years!
Here are the top 8 reasons why we are kissing DMOZ goodbye today:
No. 8: You snooze, you lose.


Updates to DMOZ were not made often enough.
No. 7: Didn't bring its bloodhound to sniff out the bad guys.


DMOZ provided no level of identifying malicious URLs – the bad stuff of the web. Malicious web pages could be a phishing web page asking for confidential information or download malware.
No. 6: A virtual boa constrictor slowly cut off DMOZ's future blood supply.


DMOZ was restricted by base or host-level categorization – which never truly addressed path-level content.
No. 5: The arrow kept missing the target.


With no accountability for accuracy and little expectation for a correction – the user experience was not exactly a paramount concern.

No. 4: Left in the dust.


DMOZ did not keep pace with the times and continued to be inaccurate – including reporting a large number of false positives. More simply put: DMOZ became increasingly more irrelevant.
No. 3: The Industrial Revolution is to manufacturing as artificial intelligence and machine learning are to automation.


DMOZ is a human-edited directory of the web and that's just not a scalable business model for the size of the internet as it exists today.

Newer technologies such as AI and ML can really turbo charge data analysis.
No. 2: You get what you pay for.


Free open-source  is not always good enough. Historically known as the Open Directory Project (ODP), DMOZ was maintained by a global community of volunteer editors. Unpaid labor is not adequately incentivized to do a good job.
No. 1: Men stopped wearing pastel leisure suits with bell bottoms after the disco era ended.


DMOZ, an open source directory of the web, was conceived in the pre-Google era and never adapted to a post-Google (PageRank algorithm) search engine world. One of the primary use cases of DMOZ was to perform search engine ranking (which no longer operates the same way).
The overarching reason for the demise or "DMIZE" (sorry I simply couldn't resist) of DMOZ is the reality that it simply was not good enough compared with other more modern options that keep up with or even ahead of the needs of the web categorization market.
####
About zvelo, Inc.
As a proven market leader for leading provider of categorization and malicious detection data for web pages, devices and traffic, zvelo is the trusted partner for the market's preeminent ad tech, network security, and mobile service provider/subscriber analytics vendors. zvelo solves a diverse range of client business needs including providing the foundational datasets for web filtering, parental controls, brand safety, contextual targeting, subscriber analytics and ad fraud prevention.
zvelo, headquartered just outside of Denver, is committed to providing the market's highest quality data products and best responsiveness. The company has additional offices in the Philippines, Spain, and Florida.