Content Categorization & Quality Assurance at zvelo
A massive number of new URLs are saved daily to the zveloDB® database. The majority of these URLs are categorized by the AutoCat engine (short for automated categorization). Dynamic content within these URLs, or unstructured content that is submitted separately in short-text streams, are processed by the zveloCAT® engine. Both engines must perform at strict accuracy and efficiency scores established by zvelo. These processes, systems and actual URL and content categorizations are monitored by a team of multi-lingual web analysts and supervisors. The sole focus of this team is to provide ongoing quality assurance and innovation to help ensure the most accurate and comprehensive content categorization service available to vendors Network Security, Ad Tech, & more.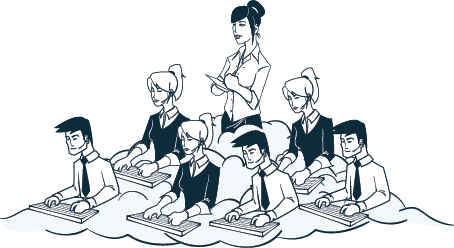 "One machine can do the work of fifty ordinary men. No machine can do the work of one extraordinary man." –Elbert Hubbard, The Roycroft Dictionary and Book of Epigrams (1923)
On any given day, the life of a zvelo Web Analyst may entail though is certainly not limited to, the following:
Double-blind quality assurance sampling across every category of the zveloDB URL database. Double-blind means that a minimum of two people, commonly a Web Analyst and his/her supervisor, conduct these "health checks" that prove most vital for critical "objectionable" categories such as porn, hate, violence, profanity, weapons and other inappropriate content.
Manual review and categorization of a daily "High Priority" list of URLs that can number in the tens of thousands. Lists can be submitted as high priority requests by any of zvelo technology partners. URL lists can also stem from affiliate organizations, like the Internet Watch Foundation. The IWF is an organization dedicated to removing child abuse images from the Internet hosted anywhere in the world.
Manual processing of uncats – URLs or content that was un-categorized by zvelo automated systems. Common category values include No Content Found, Unreachable, Miscellaneous, and others.
Spot-checking the categorization accuracy of the Alexa Top 1 Million sites.
Building URL repositories for specific languages to provide more accurate categorizations to a number of applications in use within international markets.
Innovation and creation of special website "models" that help AutoCat more effectively categorize template-driven sites. Examples include sites tied to spam, ad fraud, and other malware campaigns. These sites commonly share a similar layout, structure, or other elements that can be modeled for more effective and automated detection.
The daily duties and responsibilities of a Web Analyst can be augmented each day as zvelo signs-up more partners and as the use cases for its content categorization services become more diversified. Keeping pace with such dramatic and unpredictable change requires a particularly talented skill set.
As such, the contributions of zvelo human Web Analysts will never be under-valued.